WE GET YOU WET WATERSPORTS
JET SKI RENTAL CLEARWATER BEACH
Jet Ski Rental Clearwater Beach is We Get You Wet Watersports the one stop jet ski rental Clearwater Beach company that will certainly quench your thirst for adventure! We specialize in boating, jet skiing for any occasion. Celebrating a birthday? Hosting a corporate event? Maybe you just want to have some well needed rest and relaxation. Well, enjoy a jet ski solo excursion or make it a group event – the possibilities are endless!
Customer satisfaction and safety are at the core of our business. We are located mid county, between Tampa Bay and Clearwater Beach, with no traffic to the beach. Our staff are very friendly and knowledgeable. 
Jet Ski Rental Clearwater Beach
#ComeGetWetWithUs

Address
1300 Cove Cay Drive. Clearwater, Fl. 33760
We are located within Cove Cay, gated golfing community. Tell the security you are going to the marina. The marina is the first left after security.

We are not located on Clearwater Beach


PRICES
30 Min - $70 1 Hour - $100 1.5 Hours - $160 Half Day - $340 Extra Rider - $10 All prices are cash prices. 12% For FEES; If paid for on card. Please bring a Credit or Debit Card to hold on file; Along with an I.D.
RESERVATIONS
Reservations Are Required!
In order to GUARANTEE your reservation please call 727-365-8798. We will place a $50.00 Authorization Hold On Your Credit/Debit Card.
Cancellation Policy:
Cancellations made less than 12 hours before reservation are subject to a $50.00 per ski penalty.
If you do not show up on time or do not show up at all. The deposit is non-refundable.
DAMAGE DEPOSIT:
1-6 Jet Skis; $200 per Ski.
7 or more Skis; $500 per Ski
The deposit is refundable once there are no damages!

DRIVERS & PASSENGERS
You MUST BE 16 or older to drive & 18 or older to rent!
All drivers are required to leave a government-issued ID and a credit/debit card with the office for the duration of your rental
FLORIDA'S BOATERS TEST:
Anyone born after January 1st 1988, need to take the Florida Boaters Test. Take a Screen Shot of certificate after passing the test. Click to Take the Test
PLEASE ARRIVE 45 MINUTES BEFORE YOUR APPOINTMENT TIME!
DO NOT SHOW UP INTOXICATED OR UNDER THE INFLUENCE OF ANY DRUGS
No jeans allowed while on the JetSki/Waverunner.
We reserve the right to refuse your business.
RIDE WITH
ACTION
You'll have the opportunity to get up close and personal with turtles, exotic birds, and tropical fish. Dolphins and manatees have even been known to come up to people on paddle board rentals and swim alongside them. What are you waiting for? Come and get wet! – Jet Ski Rentals Clearwater
Clearwater Jet Ski Rentals
at We Get You Wet Watersports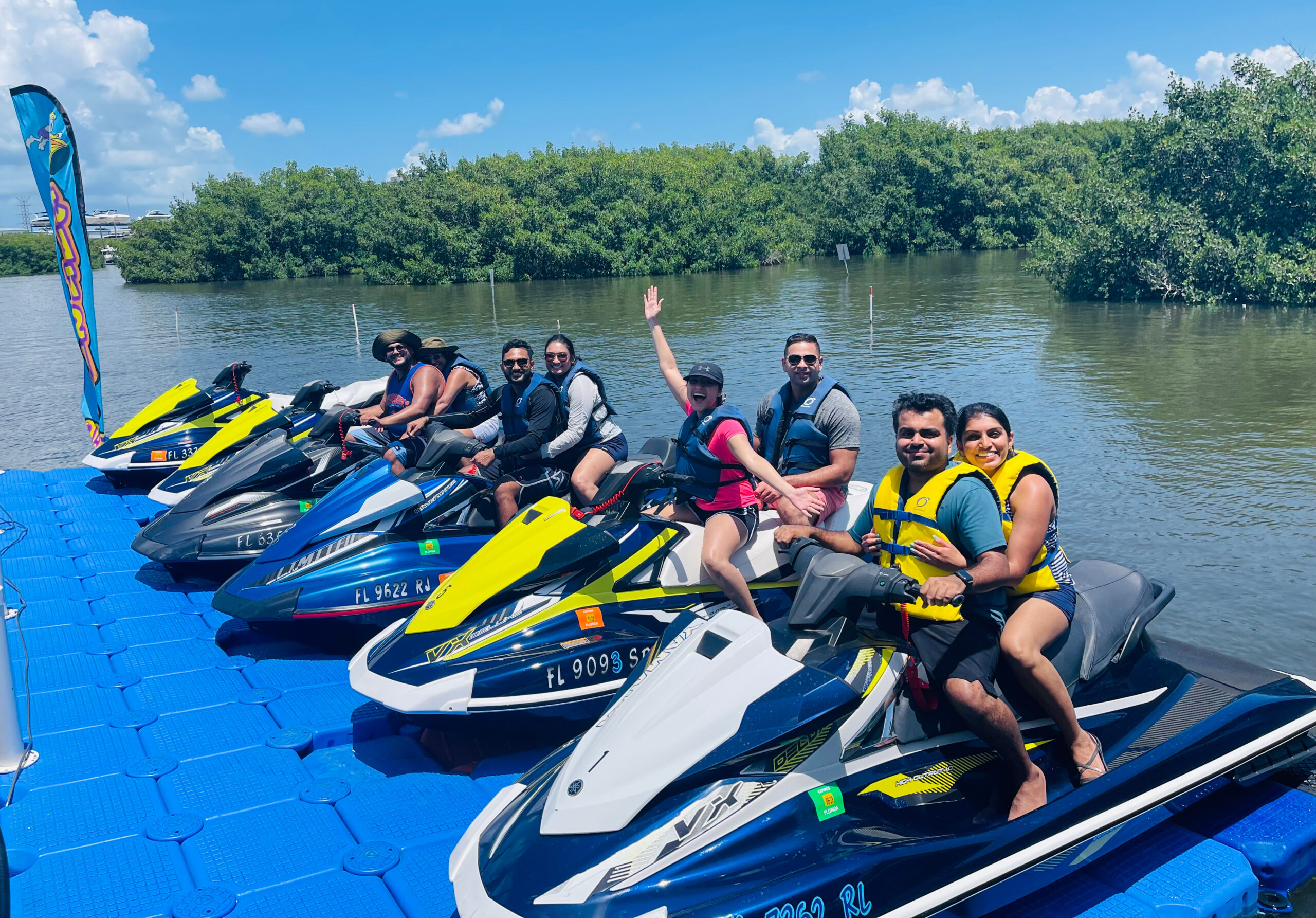 When you're visiting Clearwater or Clearwater Beach for a Florida spring break or summer vacation, jet ski rentals are one of the most popular activities. Getting a jet ski rental at Clearwater Beach will allow you to enjoy the water and sun at the same time.
In fact, that's our mission at We Get You Wet Watersports.
When you're ready to quench a thirst for a water adventure on Clearwater Beach, you'll find what you're looking for with our jet ski rentals. We can cater to birthday parties and corporate events. If you prefer relaxation on the water instead, you can book a solo excursion. The possibilities are endless with our jet ski rental Clearwater Beach packages.
Our jet ski rentals are located between Clearwater Beach and Tampa Bay. Because of our location, you can enjoy a jet sk i rental Clearwater Beach with free parking and fewer people than other popular Clearwater Beach  and Tampa Bay vacation spots. Book a Jet Ski rental with our friendly and knowledgeable staff now.
About Our Jet Ski Rentals in Clearwater
When you get a jet ski rental Clearwater beach, you don't have to stick to just lounging on the beach like everyone else. Instead, a jet ski rental Clearwater beach gives you the chance to energize your vacation with watersports.
During your excursion on one of our jet ski rentals, you could get close to the exotic birds, tropical fish and turtles that make Clearwater beach their home. Manatees and dolphins are known to make an appearance during jet ski rental Clearwater beach tours. Don't miss the opportunity to see the beauty of Clearwater beach on our jet ski rentals.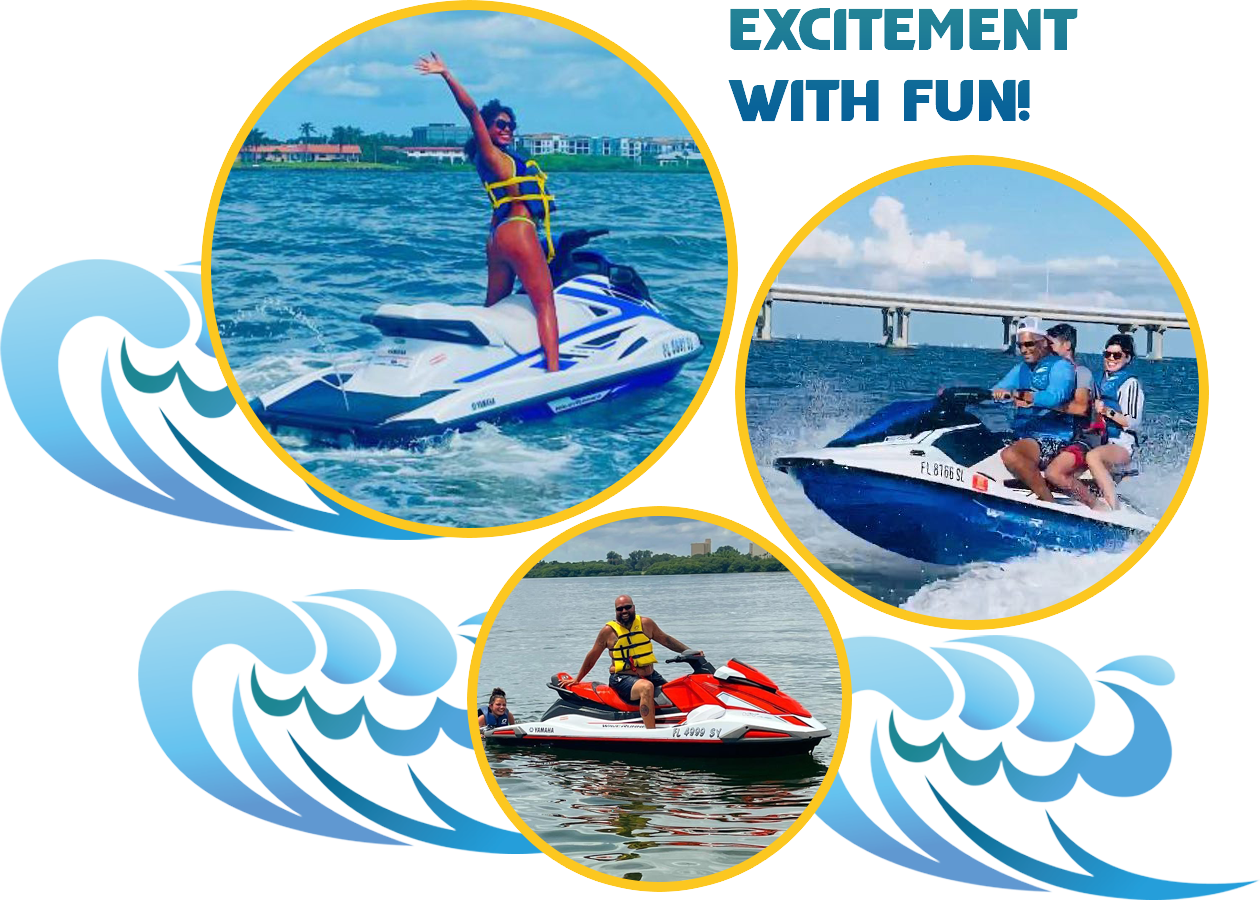 Serving Beautiful Clearwater, FL If you are visiting Clearwater, have business in Clearwater, live in Clearwater or are near Clearwater you must come to We Get You Wet Watersports in Clearwater and Check out our Jet Ski Rentals
Book Your
Clearwater Jet Ski Rental Now!
Clearwater Beach is a great place to have some fun on the open water. However, you don't want to wait too long to book your water scooter because they can go fast. Call or visit our booking page to secure your Clearwater Beach jet ski rentals today.
CONTACT US
CALL: 727-365-8798
OUR LOCATION
1300 Cove Cay Drive,
Clearwater, FL, 33760